---

He belongs to the key figures of the Boston scene. Pandelis Karayorgis, the 40 year-old Greek loves Schoenberg and Webern, and plays a jazz piano of a radical, sensibly calculated art. His sparse runs open previously little known realms of melody and dynamic. Music of quiet energy.
Does he swing or doesn't he swing? In pianist Pandelis Karayorgis and his trio there exists a tenacious sharp question mark. These sometimes Monkish, broad, dissonant charted with deliberation piano lines have absorbed so much jazz that you would like to hold with your hands the 4/4 beat but you can't find it. But when the swing beat is there, then Karayorgis likes to spin himself in a meta-jazz world, in which the eternal echo of all jazz pianists of this planet is frozen in a few to the point tones. "I feel that the music is tightly related to the swing feel. The exact time feel is almost always present or at least a specific hint. Therefore I prefer the term jazz to describe our music."
When the U.S. critics discovered this piano phenomenon their most frequent attribute is "original." An English colleague's opinion is that Karayorgis's playing sounds like "improvised Webern." A Canadian journalist was listening to a "wonderfully insane piano." And a universe-ally thinking French pronounces "this music soberly embraces our questions about the world." Insane and sober: this combination does not describe badly Karayorgis's stretched-out originality. Just as his swing feel is more perceived than articulated, so in his music coolness of a new kind is hidden. Loose exactness. Controlled extremes. Tristono-itis Post-Free.
Karayorgis himself is skeptical of the term cool. "The harmonic freedom and the elegance with which they transformed simple standard chord progressions were groundbreaking. They also are very misunderstood even today as regards their expressive range as evidenced in the unfortunate term cool, The intentional understatement in the music of Tristano, Konitz, Marsh and their collaborators is extremely expressive. I personally do not like calling it cool/free or cool anything, I just like exploring a wider range of dynamic possibilities, modes of expression etc. Fast/loud/frenetic playing has its place but is often used as an easy solution, it can be too obvious and dulls the audience's appetite for subtlety and nuance."
The subtle free thinker from Athens found himself at the piano at 9 and thanks to local radio and jazz clubs, the Praxis Jazz Festival and magazine entered the current of improvised music. In the early 80ies he studied economics during the day at Piraeus University and sat at the piano at jazz clubs at night. Finally he changed his study topic, 1985 he went to Boston and enrolled at NEC. Among his teachers were independent-minded personalities such as Jimmy Giuffre, George Russell, and Joe Maneri. Among his piano teachers were Ran Blake, Paul Bley, and Geri Allen. His direction in deep still waters was evident then.
Karayorgis is very conscious of his musical predecessors. For quite a time he had his own band dedicated to Thelonious Monk's compositions. Along with saxophonist's Eric Pakula he released in 95 "Lines," a tribute to the Tristano school. As sideman to saxist Guillermo Gregorio he explored the borderlines between cool and free. On his trio CD's he is paying tribute to Eric Dolphy, Duke Ellington and Billy Strayhorn. Despite this, critics call him foremost "original." This is because Karayorgis's music is not about imitation, selection or summing up but it is essence. Miraculous transformation. Transmuted substance. A precise balancing act between free fantasy and the established jazz scene. The Greek who lives near Boston today is critical of the propagation of jazz traditionalism in the music schools. "In my view mainstream jazz has become a form of traditional music or folk music. It is characterized by its adherence to only certain aspects of its own tradition such as repertoire, improvisation techniques and style, but not other more definitive, historically essential ones for jazz such as the need for innovation, expansion, etc. As such it can be as good or bad as any performance of Dixieland, Klezmer, Turkish taxims, Indian ragas, etc." Karayorgis's music is not based on such obvious styles. His art remains background, abstract, subtle - and in parallel it is developing a current made of gripping power.
For more than 10 years Karayorgis has been playing with bassist Nate McBride and drummer Randy Peterson. In the begging in different contexts and for a while as a trio. What you hear there is sometimes hard to believe: these three are suspended between swing and non-swing, between form and non-form with a common breath in a dark tunnel that takes them to the other side of the piece. Karayorgis plays his runs with calm, thoughtfulness and cold-bloodedness. The trio is modeling sound worlds as if having to picture from the beginning the surface of the music planet. This music is as if it speaks from sleep. Great freedom, soft ballad, all one.
What high magic is in this game? If we want to believe Karayorgis: none. "We simply listen intently to one another and we allow for a three-way dialog to occur" says the Athenian from Massachusetts. "Individual solo spaces are not as important as is the overall shape and development. Mostly we work off of regular lead sheets (some with chord changes and some without) and most pieces are treated simply as 'head-solos-head.' This simplicity of form opens up more possibilities in developing the shape of a piece."
Blood Ballad, the trio's latest album, immerses itself more than the previous Heart & Sack under the water surface, fantastically clear, mysteriously profound, dynamically nuanced. In the title piece, among others, Strayhorn's Blood Count is echoed, an immense agitated ballad of jazz history. (A ballad) that has nothing in common with the standard theme of the jazz ballad, the 32-bar "I Love You" unless one understands "Blood Count" as the last final flirt with death. Billy Strayhorn wrote this piece about his hopeless blood condition on his deathbed. One suspects: even in Pandelis Karayorgis's music the last questions find their pliant form.
Legend: somewhere in the wide land of jazz there is a pyramid. This pyramid has engraved a few names on it, not many. The most legible are Ellington, Monk, Weston, Hill. Sometime ago a hidden door of this construction opened and a white light beam emerged and focused on a pianist called Pandelis Karayorgis pupil of Joe Maneri and duo partner of his son Mat. Now he presents his own trio that has its instrumentation as the only common thing with Oscar Peterson's Trio. Karayorgis plays angular, wide-interval, single-note lines resembling a massive saxophonist, places suspended markers in the air which in some way tilt towards a rhythmic order. This is the wisdom of the pyramid: Ellington, Monk reduced to the extreme. Great avant-garde.
Hans Jürgen Schaal, Jazzthetik magazine, 3/2002 [view gif of original article in German]
---
For almost a century, jazz music has represented freedom for the people who play it and listen to it.
It would be hard to find a better example than pianist Pandelis Karayorgis, born in Athens, Greece, about five years before a military junta seized power of the country. All kinds of music were forbidden, according to Karayorgis, and Greeks turned to jazz as a force of freedom in the 1 970s, just as blacks in the U.S. had done a decade earlier.
"In Greece, perhaps it's a little bit romanticized, but we felt empathy because free jazz was a music of protest," he said. "Even in the U.S. it had more to do with civil liberties. In Greece, we had a romanticized view of the struggle of African Americans for equality and civil liberty."
As a result, the 36 year old Cambridge resident who has recently released his latest CD, the critically acclaimed Heart and Sack (Leo Lab) rejected the music of his native land for many years.
"I consciously avoided, and didn't enjoy Greek music until I was actually in my mid 20s, " he said. "I really listen to that music now. I know it pretty well. As a teenager, we tend to associate music with the perceived social context, so it really was not cool at the time, partially because we had a dictatorship in Greece."
Besides, listening to jazz was cooler. "There was also a record store that we used to stop at when we came back from school," he said. "There were all these jazz connoisseurs. They looked down at us because we were kids and we didn't really know about jazz. It had this aura of inaccessibility. It was something to try to get into. It was interesting way to get into a kind of music."
In fact, he loved it so much, in 1985 he decided to abort a career in business administration, cross the Atlantic and enroll at the New England Conservatory in Boston. There he studied with musicians such as Paul Bley, Geri Allen, Dave Holland and pioneering reedsman Joe Maneri, who would become an important influence of his music.
Of his studies with Maneri, Karayorgis said: "He stresses the importance of stripping down your mode of expression to the absolute essentials, and not having fluff, extraneous elements. Just limit yourself to what's absolutely necessary. No extra notes. Every note has to be justified."
Maneri also taught Karayorgis about stretching ideas. "When you think you're done, you have to dig deeper to find even more," he said. "He teaches you to reject any cliché and really think about that very seriously."
Karayorgis put in three years with an ensemble led by another pioneering reedsman, Jimmy Giuffre, as well as recording with Maneri, Naftule's Dream drummer Eric Rosenthal and saxophonist Guillermo Gregorio. (In fact, Karayorgis can be heard on Gregorio's soon-to-be released hatOLOGY CD, Red Cubed.)
Karayorgis was forced to put his search on hold after he graduated with his bachelors degree in 1989 and returned to Greece to serve in the army for a year.
"I had to go back, because I had to do my military (service, compulsory for all Greek citizens)," he said. "After that, I really missed the people I could work with, and grow, that existed in Boston. You know, we're always complaining about Boston, but I felt in Athens, with the exception of two or three people, most jazz musicians are really into the 60s and the 70s. There aren't that many people who had a vision about creating new music and just creating their own voices as musicians. They're really into the Blue Note sound of the 60s. Every other band sounds that way, or they're still imitating Sonny Rollins.... Even though I had much more work there, it wasn't gratifying. I really wanted to come back here and work with people who had the passion I had."
During his stint in the army, which he terms "an exercise in futility," he wasn't able to practice piano at all. Still, Karayorgis had no problem getting back into the swing of things. "I sprang right back into it, after catching up on sleep for a couple of months first," he said.
Karayorgis returned to Boston in 1991 and got his masters degree from the Conservatory two years later.
While Karayorgis said there are still political ideas behind his music, the music ~ ~ ultimately comes first. "I think the idealism of the early 20s combined with all the dejection you get as a jazz player, and trying to do creative music gives way to becoming a little more cynical," he said. "Deep down, I think it remains. It's there, but I m really focused on the music. Sure, there is an underlying feeling when I go to present my music that there's a feeling of a total statement. It's not just music. It's what the music represents also in terms of how you think about music, what choices you make, what you reject. For example, if you reject certain aspects. or if you choose not to endorse certain aspects of ;h e mainstream jazz tradition of today, there is a statement. It's hard to put it very precisely, because it can almost become too trivial."
As a composer, Karayorgis said he is interested in creating a "wholesome relationship between the written statement and the improvised parts."
"I try to write a composition that's pretty much going to be in the same language as the improvisation that's going to follow," he explained. "That's not a novel idea, obviously. Charlie Parker wrote tunes that were in the same language as he improvised in. Precisely for that reason, I don't want to play Charlie Parker's tunes, as much as I like them, or Lennie Tristano's, or Monk's, because I want an organic relationship."
In fact, Karayorgis said he has decided to stop playing Monk tunes. "It's so hard for me not to get into a Monk state of mind," he said. "I really want to get away from the four bar phrases. I really want to pursue my own language, and that's what he would have done. I think if I asked him advice on what to do, he would have said the same thing."
Monk would have been proud, especially since Karayorgis continues to break new ground.
"I think I'm getting there, and hope my whole life I have to be getting there," he said. "You have to be searching. I feel while you're playing you have to be searching. It's very important while playing to be searching for things, finding things. And if you stop searching because what you know what you have to do, that's kind of a creative death. Once everything has been formalized, and it's like a recipe, and it's really comfortable, then it's not worth it."
Christopher lacono , Signal To Noise, March/April 1999
---
Nine people are in the audience as the concert gets underway. We are sitting on metal folding chairs that have seen better days, and the stage is an Oriental rug set cockeyed in the corner. One of the two spotlights above the three musicians goes off and on by itself; there must be a short in the wire. But it cost just $8 to get in, and despite the low-budget atmosphere, you can't escape the feeling that you are very cool for being here, as if you are in on a secret to which few others are privy.

''We'll be playing two sets,'' bassist Nate McBride announces before the music starts. ''There is beer available in the fridge, which you are welcome to.'' Then he, drummer Curt Newton, and keyboardist Pandelis Karayorgis, playing a Fender Rhodes electric piano, launch into an electrifying, deeply groovy, and out-there piece of music written by Karayorgis. For the next 45 minutes, the trio - they call themselves the mi3 - will play four more tunes, including a Thelonious Monk, an Eric Dolphy, and a Sun Ra, that are varied, often strange, and as accomplished as anything you'll hear anywhere else in the city.

Boston's newest venue for avant-garde jazz is as unlikely as they come. On the floor above a Hyde Park dry cleaners, in a room that used to serve as storage space, sits Artists-at-Large Gallery, which is about to turn a year old. Since November, it has also hosted the mim series - it stands for ''modern improvised music'' - organized by McBride.

How did this happen? To make a long story short, McBride and Thomas C. Seggers Jr., an artist known simply as Tommey, used to be neighbors in Jamaica Plain. McBride sold Seggers his old Volvo, the two parted ways, and then they wound up living near each other again, in Hyde Park. McBride was looking for a place for his mim series, and Seggers had recently leased a space in the second floor of a building at Hyde Park Avenue and Everett Street.

''Why have music here? It's yet another form of expressions,'' Seggers says. ''Jazz is the most American form of expression. It's ours.''

There is the obvious question: Why Hyde Park? And there is a simple answer: Because McBride lives there. But there's more to it than that. Why McBride set up a jazz series in a hard-to-find room at the southern tip of the city has a lot to do with the opportunities that are afforded musicians who play outside the mainstream.
McBride, 31, says he knows many avant-garde jazz musicians who live in Boston but rarely perform in the city. ''It's a style of music that falls through the cracks sometimes,'' he says. ''It's certainly not economically viable for a large place, but it's not something you can go down to the local talent show and hear, either.''

McBride should know. He's a well-regarded bassist who happens to be associated with some highly acclaimed avant-garde and free-jazz artists, including Chicago-based reed player Ken Vandermark. The two, along with drummer Hamid Drake, make up the trio Spaceways Inc., which released one of 2002's most outstanding albums, ''Version Soul.''

Vandermark, in fact, will bring his quintet, the Vandermark 5 - one of free jazz's most beloved bands - to Artists-at-Large on Wednesday for a concert celebrating the release of the group's new disc, ''Airports for Light.'' The show is a huge ''get'' for the gallery; the Vandermark 5 could easily fill a small auditorium.
Though this is the first time he'll have his quintet there, Vandermark has already played the gallery twice, in November and December. ''The environment was good to play in,'' Vandermark says from his home in Chicago. ''The two times I've played there, the audiences have been really, really good and really listening.''
The goal, for now, is modest: a concert on the second and fourth Fridays of the month - in which McBride is often the bassist - plus other shows that fit into the schedules of groups that are touring. And if things have gotten off to a slow start, McBride is optimistic. By the end of the first set of the recent mi3 concert, just 15 people had showed up, but the audience's small size didn't drag down the event; on the contrary, it made it feel like a rent party, a concert from the bebop era, held in someone's home, thrown together to help a musician pay his rent.

''It pretty much is a rent party,'' McBride says when the analogy is suggested to him. So far, he says, he is spending more money to promote the shows than he collects at the door. McBride - who plays the gallery tonight with his own quartet, on a double bill with the Central Artery Project - is not at the point where he can play music for a living. A Seattle native, he moved here 12 years ago to study at Tufts and the New England Conservatory, but he earns his money as a carpenter, making furniture.

So why put so much effort into a concert series that is drawing small crowds and costing him money?
''To try to get it to stand up on its own,'' he says. ''I just want a place to play and have a place where people can hear us play and not let them down. But I don't expect to make any money on this in the near future.''
Steve Greenlee, Boston Globe, 3/14/2003
Diesmal kam die lyrische Seite zum Klingen
Ken Vandermark und Pandelis Karayorgis in einem Ausnahmekonzert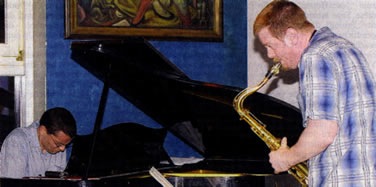 Geniale Ergänzung: Pandelis Karayorgis und Ken Vandermark im Konzert. FOTO: SCHÄFER

Dachau - Das war nicht nur ein Pflichttermin für alle Vandermark-Fans, sondern ein absolutes Schmankerl für alle Free-Jazz-Liebhaber: Der ,,Saxophon-Koloss" Ken Vandermark und der gern als ,,cool" bezeichnete Pianist Pandelis Karayorgis haben im Café Teufelhart ein begeisterndes Ausnahme-Konzert gegeben.
Ausnahme deshalb, weil das Duo mit einem Sonderkonzert die Frühjahrssaison des jazz e.V. beschloss, und weil der Dachauer Stammgast Ken Vandermark wieder einmal für eine Überraschung sorgte. Im Zusanimenspiel mit dem amerikanischen Griechen Karayorgis zügelte er seine eruptive Energie und zeigte sich von seiner empfindsamen und lyrischen Seite, ohne dabei die viel gerühmte Freiheit und Kreativität aufzugeben.
Das Duo verwöhnte das Dachauer Publikum mit einem Kammerkonzert der Superlative. Wie ein Maler und ein Bildhauer malten und meißelten Karayorgis und Vandermark die Töne. Pandelis Karayorgis Klavierspiel ist fein ziseliert, elegant und von großer Klarheit. Es scheint sensibel kalkuliert und ist dabei farbig und fein nuanciert. Seine Art zu spielen wird völlig zutreffend als das Gegensatzpaar aus kontrolliertem Extrem und lockerer Exaktheit bezeichnet, als ,,Coolness der neuen Art", wobei er selbst dem Begriff ,,cool" eher mit Misstrauen begegnet. Denn die glatte Oberfläche seiner Musik scheint von kaum merklichen Widerständen und Splittem durchsetzt, wird nie langweilig und fesselt die Aufmerksamkeit des Zuhörers immer wieder aufs Neue.
Im vielseitigen und stets nach Neuem suchenden Ken Vandermark hat Karayorgis einen Partner gefunden, der sich auf diese widerspenstige ,,Coolness" einlässt und ihr mit Emotionalität und energetischer Kraft begegnet. In einem Stück, welches das Duo dem abstrakten Maler Emil Schumacher (1912 bis 1999) gewidmet hat, vergrub sich Karayorgis in die Tasten und malte mit Tönen ein filigranes Klangbild voller Finessen und Klangästhetik. Er schuf eine komplizierte Dramaturgie aus dissonanten Harmonien und melodiös perlenden Läufen auf die Ken Vandermark mit pulsierendem und frei fließendem Spiel voller Intensität und Rhythmus antwortete, so dass sich eine prickelnde, spannungsgeladene Stimmung ergab.
Eigentlich sei er vor einem Konzert nie nervös, außer auf einem Festival vor einem Auftritt mit dem Schlagzeuger Paul Lovens, erzählte Vandermark. Er habe die Box mit Saxophonblättern in den Trichter seines Instrumentes gelegt und sie dort vergessen. Als er dann spielte, seien nur knatternde Stakkatotöne herausgekommen, so Vandermark. Das Publikum habe das Versehen gar nicht bemerkt, und als er die Box aus dem Instrument herauskippte, lobte man ihn wegen des coolen Einfalls. Grund für Vandermark seinem Kollegen Paul Lovens ein Stück zu widmen, in dem er harten Akzenten und schrägen, überspitzt überblasenen Tönen freien Lauf lassen konnte.
Nach diesem Ausflug in ekstatische Free-Stakkati wurde der wilde Tiger Ken Vandermark wieder zum schnurrenden Hauskater. In einem in Polen komponierten Stück ließ er zu Karayorgis swingendem Spiel auf der Klarinette fein phrasierte, Tonkaskaden fließen. Und Balsam für die Ohren war schließlich die Zugabe. Ken Vandermark begab sich mit gehauchten Saxophontönen auf einen Schmusetrip, wie er Nachtschwärmern in einer verrauchten Jazzbar wohlige Schauer über den Rücken jagt.
DR. Bärbel SCHAFER, Münchener Merkur, 5/2007
Phrenology fest makes jazz world smaller
Tony Bevan-Bandelis Karayorgis-Guillermo Gregorio Phrenology Festival at the hungry brain.
Underground jazz musicians are an international community -- everyone seems to know everyone else, everywhere -- so it was only right that Americans, Canadians and Europeans representing several generations played together this week at the Hungry Brain nightclub on West Belmont. The occasion was the three-night Phrenology Festival, and on Monday, the second night, the program was cool jazz, hot jazz and utterly eccentric jazz. Did the stylistic juxtapositions reveal anything about the state of the art in Chicago, Boston and London, the artists' home cities? (...)
There was unity in the Gregorio Trio's calm explorations and the Bishop-Bevan quartet's violence. By contrast, the eccentric Pandelis Karayorgis Trio sounded like each man was in a separate location. The Boston-based leader-pianist phrased like Erroll Garner, Cecil Taylor and Thelonious Monk, among others, stringing it all together with Monkish discords. Instead of accompanying this strangely plodding, unmelodic music, bassist McBride played decorations and drummer Randy Peterson thundered utterly independent lines, climaxing in frenzied, incongruous solos. Sometimes, it seems, freedom's just another word for nothing relevant to play.
John Litweiler, Chicago Sun-Times, Oct 5, 2005
Mit einer Vollwertportion Jazz beginnt dafür der zweite Tag des Festivals [Passau JazzFest 2006]. Das Quintett um den Pianisten Pandelis Karayorgis zieht mitten hinein in die Tiefen und Untiefen einer aufregenden Jazzgeschichte. Welch geistiger Vater dahinter steht, spürt man sofort an Karayorgis Bewegungen. Die Musik läuft nicht einfach geradeaus, sondern schlägt immer wieder Haken, wechselt kunstvoll Harmonien und Tempi. The Monk Sphere verbreitet der griechische Komponist zusammen mit Musikern aus Österreich. Ausgehend von knapp formulierten Melodien und transportiert von anhaltendem Swing bleibt der hochkomplexe Jazz durchgehend verdaulich. Zwei exzellente Saxofonisten, Klemens Pliem vom oberösterreichischen Hollotrio und Jungstar Clemens Salesny, legen Improvisationen ein, als könnte man die Errungenschaften aus 70 Jahre Jazzgeschichte einfach inhalieren und wieder hinausblasen.
Gabriele Blachnik, Passauer Neuer Presse, July 2006
Festival Scenes - DuMaurier International Jazz Festival Vancouver –June 20-29
After weeks of anticipation, the magic of the festival began. While Diana Krall/Joey DeFrancesco sold out the Orpheum theatre for a opening night gala, the duMaurier festival started (for me) with a one two punch of international Improvising, a performance by alto saxophonist Guillermo Gregorio in company of pianist Pandelis Karayorgis. The two—joined by violinist Mat Maneri—developed a quick rapport, an impulsive music as a trio improvisee with composed music.
Gregorio's alto has that luminous sound, a sonic effect: the way sound taps into the pleasure centers of the brain. Maneri's electric violin, agile and unpredictable, explored the textures between reeds and piano, next day sharing the stage with cellist Peggy Lee, the two strings richly blending with Francois Houle's clarinet.
CODA #276, 11-12 1997


Though sharing the same bass player and drummer as the Poppel trio on Saturday, the Pandelis Karayorgis Trio (Karayorgis, p; Nate McBride, b; Curt Newton, d) showed just how different piano trios can be. Where Poppel's trio dealt in collective abstraction, Karayorgis worked from angular compositions that bring to mind free extensions of Monk and Nichols. The pianist's splayed clusters and looping sinuous runs pulled flowing lines from free harmonic development. McBride responded with resonant lines that worked from the kernel of the pianist's themes, extending them into darting melodic comments. Newton built tuned comments around pianist's driving momentum, pulling apart off-center rhythms and reassembling them into free swing. The result was a captivating collective synthesis.
Michael Rosenstein, Cadence Magazine, December 1997
[ Review of Autumn Uprising, 1997]
The Mandala Octet includes two excellent soloists. ... Pandelis Karayorgis, the Mandala Octet's pianist, is a fluid, inventive improviser. Karayorgis makes use of the entire piano and he often uses his elbows to create exuberantly percussive effects. His energetic style, reminiscent of Cecil Taylor and Don Pullen, is a welcome contrast to the many jazz pianists who merely imitate Herbie Hancock and Chick Corea. His fierce improvisation on The Last Elephant was particularly impressive.
Mark Polishook, Portland Press Herald, September 19, 1992
[review of a Mandala Octet gig at the Cafe No]
PANDELIS KARAYORGIS: Heard good things about the Beantown pianist's new trio disc. And though he has a tendency to be a bit dry, it's that analytical side which provides most of the high points of his performances. Internet Cafe, at 9 & 10:30
Jim Macnie, Village Voice, Voice Choices, March 16, 1999
PANDELIS KARAYORGIS: The Beantown outcat is a valuable missing link. Last year's Heart & Sack found him synchronizing the piano strategies of Andrew Hill and Anthony Davis, and like the woefully neglected Lowell Davidson, his abstractions have just as much heart as brains. He doesn't get to New York often enough. Knitting Factory, Knitactive Stage, at 10.
Jim Macnie, Village Voice, Voice Choices

Combine the linear drive of Lennie Tristano with the free-jazz abstraction of Paul Bley and you get Pandelis Karayorgis, for the past decade or so one of the most exciting young pianists in town. This is "experimental" jazz with unmistakable swing. Karayorgis and bassist Nate McBride work off their new CD, Let It (Cadence), preceding a trio of pianist Steve Lantner, guitarist Joe Morris, and percussionist Laurence Cook, at the Zeitgeist Gallery, 312 Broadway in Cambridge. It starts at 8 p.m., and tickets are $10.
Boston Phoenix, July 2001
Pianist PANDELIS KARAYORGIS mixes freedom and headlong intent in a manner that recalls equal parts Lennie Tristano and Paul Bley. (The latter was one of his teachers at New England Conservatory.) His lines wander freely, but they always sustain themselves with a comin'-atcha rhythmic propulsiveness and tensile strength. He matches wits with bassist Jef Charland and drummer Luther Gray at Rutman's Violins, 11 Westland Ave, Boston | Saturday, May 12, 2007
Boston Phoenix, May 2007
Karayorgis ist der Prototyp eines 'denkenden' Musikers, der sein Material abspeckt und dehydriert bis auf die Essenzen. Nur ist dann dieses durchgeistigte und erinnerungssatte Konzentrat verschmolzen mit gefühlsintensiver Musik- und Lebenserfahrung. Wie auch bei den minimalistisch-markanten Motiven von Schlippenbach, bei Mengelberg, Blake und Paul Bley hat man es hier mit einer Pianomusik zu tun, die ohne überflüssige Töne auskommt, mit einer Musik, die erst bei Dämmerung zu fliegen beginnt.
Bad Alchemy #46, März 2005
Karayorgis's improvisations take a normal song and turn it completely around. Such was the case on I Know Why You're Lonely, where his intense double time runs were absolutely amazing. … Good writing, a hint of the avant-garde, and some impressive performances by Karayorgis, bassist John Pineda, and percussionist Eric Rosenthal.
Matthew Bowman, New England Performer, October 1993
[review of a demo tape with the Eric Pakula Quartet]
Tthe group, thanks to Karayorgis, hits creative pinnacles on "Swarm" and "II". The pianist's astute, urging comping on the former gives way to a blistering, ominous solo that is at once fleet and chunky. The lyricism Karayorgis bring to the fore on the first part of the latter is peppered with sudden bursts of motion, while the driving section is bolstered y the pianist's dramatic waves and splashes of color.
Milo Fine, Cadence, June 1996
[reviewing Mode Plagal, Mode Plagal, Ano Kato 2003, 1995]
Pianist Pandelis Karayorgis is a very creative soloist, and he is not afraid to employ clusters, smears and other effects on his way to an original solo style ... supply enough heat to keep the kettle boiling.
Carl Baugher, Cadence, January 1991
[reviewing The Notion Of Obstacle, Mandala Octet, Volition, 1989]
SCANS OF NON-ENGLISH REVIEWS
French
No Such Thing, Jazz Notes, Gérald Mathieu
Blood Ballad, Improjazz, Luc Bouquet
Blood Ballad, Jazz Notes, Gérald Mathieu
Disambiguation, Improjazz
Disambiguation, Jazzman, Jean Buzelin
Heart And Sack, ArtZero, Dan Warburton
Heart And Sack, Improjazz, Alexandre Pierrepont
Heart And Sack, Jazz Notes, Gérald Mathieu
Heart And Sack, Jazzman, Alex Dutilh
Heart And Sack, Revue & Corrigee, Gérard Rouy
In Time, Jazz In Time
In Time, Jazz Magazine, Philippe Méziat
Lift & Poise, Jazz Magazine, Gérard Rouy
Let It, Improjazz, Noël Tachet
Let It, Jazz Notes, Gérald Mathieu
Hand Made, Tribune De Geneve, Stéphane Herzog