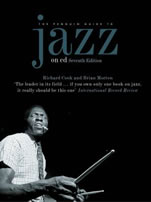 The Penguin Guide to Jazz on CD, Seventh Edition
Richard Cook and Brian Morton
ISBN: 0-141-01416-4
Penguin Books
2004

Pandelis Karayorgis
PIANO
Raised in Greece, he studied at the New England Conservatory and under Paul Bley and plays a ruggedly abstract style of piano. Has worked with viol(in)ist Mat Maneri.

*** Lift & Poise
**** Heart & Sack
**(*) Let It
***(*) Blood Ballad
*** No Such Thing
*** Disambiguation

Karayorgis has made several albums on Leo Records with Maneri. "Lift & Poise"is probably the best of them, with the bonus of Joe M. (clarinet on two tracks) and John Lockwood on the strength. There are 12 tracks, divided into solo, duo and trio pieces, exploring a range of sonorities and improvising languages, ranging from the quasi-classical to the free-form and brutalist.

Heart & Sack is much more obviously a jazz album and Pandelis's Monk influence comes across strongly. He does a wonderful cover of Dolphy's bluesy 'Miss Ann', Ellington's 'Frustration' and Ken McIntyre's rarely (if ever) covered 'Lautir'. That's enough to lend it interest, but the playing is richly evocative and never predictable, even if McBride and Peterson occasionally lapse into free-jazz argot during some of Karayorgis's more abstract passages.

The duo date with McBride is actually rather dull, though there are moments of genuine illumination as well, and it's the reconvened trio that captures the attention on Blood Ballad. It's a tighter and more organized album than the first, and there are no reference points apart from the closing version of Coltrane's 'One Up, One Down', which might be taken from a Marilyn Crispell session were it not so punchy and Monkian. The opening sequence of 'In The Cracks Of Four' and 'Blood Ballad' probably represents Pandelis's best moments on record and a very good place to start exploring his music.

The trio with Vandermark will appeal mostly to fans of the reedman, though Karayorgis's supressed cecil Taylor influence moves to the fore briefly. Best to move straight on to Disambiguation, which reunites the pianist with Mat Maneri in a scratch line-up that brings out the best in both of them. Again, Pandelis's Monk influence is very evident, and he swings more easily and relaxedly than on most of his previous records. The long 'Three Plus Three' (which might be a lost Monk score) and the title-piece are the most effective cuts.